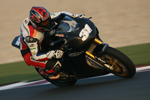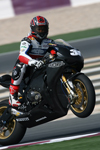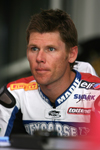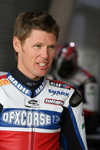 © 2snap © 2snap © 2snap © 2snap


Sunday saw the first day of testing at the Losail Circuit in Qatar, with ten of the 28 permanent riders taking part in this year's championship out on track. On a scorching hot but windy day (air 32°, track 41° C) Lorenzo Lanzi powered to the quickest time on his RG Ducati 1098, the Italian showing that he has already reached a good feeling with his new twin-cylinder machine. The two Sterilgarda Go Eleven riders were next up, Ruben Xaus proving to be slightly quicker than Max Biaggi with second and third quickest times respectively. All riders were on Pirelli's 2007 tyres.
DFX Honda's Karl Muggeridge posted the 5th fastest time on day two on his new 2008 CBR 1000. Muggeridge concentrated both days two get the new Honda working and ready for the first couple of rounds of the new season. There are still a few teasing problems with the new machine and there's a lot of work to be done to get it running as good as the 2007 model.
Muggas team mate Russel Holland concentrated more on getting a quick time in on the 2007 model and only did a few laps on the new bike where as the other Honda rider Gregorio Lavilla and his team didn't even bother to bring the new 2008 machine to the Qatar test and decided to start the first couple of rounds with the old CBR until everything is properly in place.
Muggas comments: "We are just having the standard steep learning curve with the new bike and needed everything on our side to make enough progress. On day one we concentrated on sorting the electric running system and that didn't go too bad. On day two we began to work on suspension but after Lunch we had major electric problems and could barely do two laps in a row. So we didn't get a real chance to post a fast time and with all the problmes we lost a lot of important track time which we needed to get the new bike ready."
TIMES DAY 1: 10th February 2008

Lorenzo Lanzi (Ducati), 1m59.6s
Ruben Xaus (Ducati), 2m01.1s
Max Biaggi (Ducati), 2m01.2s
Gregorio Lavilla (Honda), 2m01.4s
Russell Holland (Honda), 2m01.6s
Karl Muggeridge (Honda), 2m02.5s
Ayrton Badovini (Kawasaki), 2m03.0s
Vittorio Iannuzzo (Kawasaki), 2m04.0s
Regis Laconi (Kawasaki), no time
Makoto Tamada (Kawasaki), no time
TIMES DAY 2: 11th February 2008

Lorenzo Lanzi (Ducati), 1m59.0s
Ruben Xaus (Ducati), 1m59.5s
Gregorio Lavilla (Honda), 1m59.5s
Max Biaggi (Ducati), 2m00.1s
Karl Muggeridge (Honda), 2m01.0s
Regis Laconi (Kawasaki), 2m01.2s
Makoto Tamada (Kawasaki), 2m01.5s
Ayrton Badovini (Kawasaki), 2m01.8s
Vittorio Iannuzzo (Kawasaki), 2m01.9s