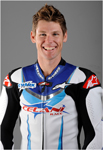 © F. Porrozzi
Karl Muggeridge (Celani Race Suzuki) will start the 2009 season without having the opportunity to test his new GSX-R1000,
after delays in getting the final race-ready package together before the start of this weekend's final unofficial test sessions in Australia.
Muggeridge and his Celani team have taken up the new 2009 initiative of running machinery supplied and developed by the Suzuki factory's official team, Alstare, with an overall specification very close to that of the full works bikes used by Max Neukirchner and Yukio Kagayama. The all-new Suzukis Muggeridge will be riding have only recently been finished in full race trim back in Europe, before being shipped to Australia for round one of the 14-Round series, on March 1.
His machine will feature a few changes compared to the official machines, most notably Öhlins suspension and a sophisticated electronics package with slightly fewer parameters for adjustment.
"I haven't had the chance to ride a bike for about four months and we didn't get the chance to test the new bike," said Muggeridge, "but from what we have been told about it we should be head and shoulders above where I started from in the last couple of seasons. If everything works as well as we hope, we should be able to get some decent results, and go for points."
Muggeridge became a father again on 16 February, after the birth of his second son, Oliver Alec Muggeridge, with both new mother Isabelle and Oliver both doing well.