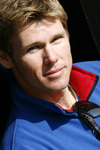 Picture by 2snap

Karl Muggeridge will ride for the HM Plant Honda squad for the next two British Superbike rounds at Brands Hatch (7-9 August) and the team's 'home' race in Lincolnshire on Bank Holiday weekend later in the month at Cadwell Park (29-31 August).

The seats of both of the HM Plant Honda British Superbike CBR1000RR Fireblades became available due to regular BSB Honda rider Glen Richards recovering from a broken leg and, team-mate Josh Brookes being handed a controversial two race ban following the last round at Mallory Park.
Karl Muggeridge is making his BSB debut and joining the Honda squad, however the 35-year-old from New South Wales is no stranger to UK tracks having ridden for the Castrol Honda British Supersport team in the late 1990s. He also comes with a proven championship pedigree, having won the 2004 World Supersport title for Ten Kate Honda, and since, riding for a number of Honda teams in the World Superbike series.
Following the discovery of two broken vertebrae as a result of a heavy crash at Assen earlier this year, and compounded by a more recent fall in the States whilst racing in the World Superbike Championship, Karl has spent the last few months recuperating, is now back to full fitness and is raring to get back on two-wheels.
Commenting on his forthcoming BSB outings, Karl 'Muggas' Muggeridge (#31) said:
"It has been a long time since I last raced in the UK, but it is refreshing for me to be back with a great team and bike. It has been a pretty hard last three years for me but I am ready for this challenge. I am back to full fitness now after the big crash I had in WSB and am looking forward to Brands Hatch. I tested the HM Plant Honda Fireblade at Cadwell Park last week and I gelled straight away with the team and it was great for me to be back working with them again. The bike feels great too, although of course we still have some work to do on set-up to suit my style. I have always liked the Brands Hatch Grand Prix circuit and this is a fantastic opportunity for me. I have had success in the UK before so I am hoping that I can come back strong next weekend."
Havier Beltran, HM Plant Honda Team Manager
"Rider changes mid season are never ideal for riders or the team, but we're in the situation we're in and we fully intend to just try and make the most of a less than ideal situation and get on with the job. Karl is a rider who has experience of the British series and also Honda, having ridden for us in the Supersport championship a decade ago. He's also won races at Brands, it's his favourite circuit and he has experience of the Fireblade from his World Superbike experience. All in all, we feel we're fielding a strong line-up for the next two rounds."