BSB Rd. 9 Cadwell Park , Free Practice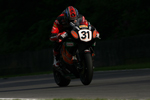 HM Plant Honda's Karl Muggeridge is eager to pick up the pace in this afternoon's second free practice session after finishing outside the top ten in the opening practice at Cadwell Park this morning.
'Muggas' hasn't raced at the challenging Lincolnshire circuit for ten years and admits that it was a bit of a shock to the system in dry conditions this morning, however he believes he will be able to turn it around this afternoon at the team's home round.
Muggeridge told the BSB website: "That first session was a bit of an eye-opener for me! The last time I was here it was for the short test I had before Brands Hatch when the track was wet so we were nowhere near race pace and to hit it at full speed today was a completely different ball game. It felt like a bit of a white-knuckle ride at the start of the session but I just need more laps. In the next session I just need to get more laps in and keep finding more time. There is nowhere in particular that I am struggling it is just a case of getting into a rhythm and the rest will follow. We have a good setting from last year, which of course Leon Haslam won with, so the more laps I have the closer we will be getting to the front boys. I definitely have more to come!"


2nd Free Practice Session:
1 2 Leon CAMIER GBR Yamaha - Airwaves Yamaha 1:27.911 11 18 89.27
2 11 Ian LOWRY GBR Suzuki - Relentless Suzuki by TAS 1:29.023 6 22 1.112 1.112 88.15
3 3 Stuart EASTON GBR Honda - Hydrex Honda 1:29.100 21 21 1.189 0.077 88.08
4 17 Simon ANDREWS GBR Kawasaki - Confused.com Kawasaki 1:29.137 16 20 1.226 0.037 88.04
5 4 John LAVERTY GBR Kawasaki - Buildbase Kawasaki 1:29.180 21 22 1.269 0.043 88.00
6 5 Karl HARRIS GBR Honda - Hydrex Honda 1:29.213 17 19 1.302 0.033 87.96
7 101 C Gary MASON GBR Honda - Quay Garage 1:29.299 23 23 1.388 0.086 87.88
8 8 Graeme GOWLAND GBR Yamaha - Motorpoint / Henderson Yamaha 1:29.366 22 27 1.455 0.067 87.81
9 86 Julien DA COSTA FRA Kawasaki - Confused.com Kawasaki 1:29.493 14 21 1.582 0.127 87.69
10 50 Sylvain GUINTOLI FRA Suzuki - Worx Crescent Suzuki 1:29.544 13 26 1.633 0.051 87.64
15 31 Karl MUGGERIDGE AUS Honda - HM Plant Honda 1:30.025 15 20 2.114 0.261 87.17