MUGGAS GEARS UP FOR ONE OFF WSBK RETURN
2.09.2009
Check out what I've been up to between races.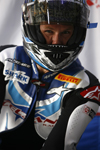 © 2Snap

With Suzuki Alstare Brux again having to do without the services of Max Neukirchner in the German rider's home race at the Nurburgring this weekend, the Belgian team has opted to call on the services of Karl Muggeridge, who steps back onto a World Superbike machine after an unhappy experience with the Celani Suzuki squad was brought to an end in the middle of the season. The Australian last raced for Alstare in 2001, when he finished 7th in the Supersport World Championship on the Suzuki Corona machine, but this weekend he is aware that dialing into the 2009 machine is not going to be an easy matter.

"Firstly I would like to wish Max all the best and say, get well soon mate!" declared Muggeridge. "This coming weekend is a nice opportunity to work with Alstare again. The last time was when I raced Supersport for them in 2001 and it's good to see that many of the mechanics are the same ones I knew then. That will make my life easier when we start working with the bike on Friday for sure. The team are not putting any pressure on me at all and have told me to just ride the bike and do the best I can. I have spent some time with the Alstare mechanics and have seen the differences between the bike and the Suzuki I raced earlier this year. I think that the biggest difference will be the handling and the electronics . These days it takes quite a lot of time to understand the electronics and the changes that can be made and the quicker I can understand them, the better it'll be. I'm really looking forward to the weekend, even though I know it's not going to be an easy one, but whatever happens I will give it my best shot."